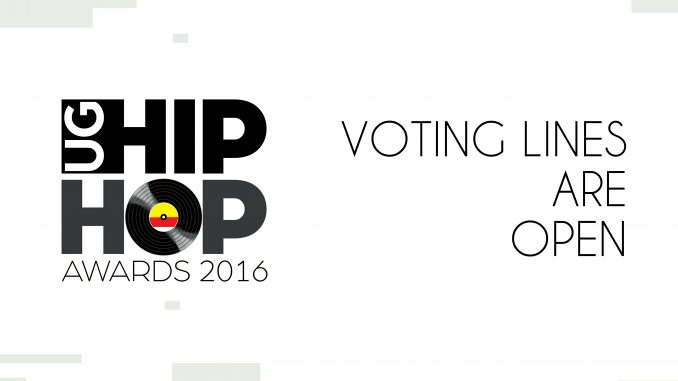 UG Hip-Hop Awards 2016: Voting Procedures.
Voting in the first inaugural UG Hip-Hop Awards is officially on, the voting will be by Short Message Service (SMS). Fans will be able to vote for their favorite acts by sending specific designated codes for example; " UGHHA 1A " to '7197', the code is applicable to MTN, Africell, Uganda Telecom(UTL) and Airtel. The voting will stop on 4th December while the event is slated for 15th December.  The specific codes are listed below;
Male Rapper of the Year (1)
Pryce Teeba (1A)
Navio (1B)
Gravity (1C)
Mun*G (1D)
BigTril (1E)
Song of the Year (2)
Side Zeno – Pryce Teeba (2A)
Mutima –Keko Town (2B)
Kigozi – Navio (2C)
Malala – Victor Kamenyo (2D)
Tunyumize – Gravity (2E)
Collaboration of the Year (3)
Empisa – Ruyonga ft. Nandujja & St. Nelly-sade (3A)
Batuwulira – BigTril ft. Fille (3B)
Crazy – Mckenzie ft. Navio & Keko (3C)
Nsekula – Fefe Bussi ft. Sheebah (3D)
All Femcee Cypher – Fasie, Keko, Yallah, Sphynx, Twitch, Ninja C, Zion & Agee (3E)
Video of the year (4)
Gbesile – Navio ft. Burna Boy (4A)
Tsunami – Atlas Da African (4B)
Drink Party –Opu Kobokoboy (4C)
Emergency – Nemesis (4D)
Dreams – Kracbone (4E)
Lyricist of The year (5)
Ebaluwa – St. Nelly-sade (5A)
First Family – The Mith (5B)
Misinde – Keko (5C)
Hip-Hop Kijjulo – Brooks AfterMathematics (5D)
Kumbe Anjagala – Luganda XLz (5E)
Inspirational of the year (6)
Ekitakumenya – Ruyonga (6A)
Togwamu Suubi – Benezeri (6B)
Hallelujah – 1Der JR (6C)
Victory – Flex D'Paper ft. Levixone & Ruyonga (6D)
In Awe of You – Rugged Made (6E)
Rookie of the year (7)
Young Cardamom & HAB (7A)
AJO (7B)
Nemesis (7C)
HerNinjaness Ninja C (7D)
Barna (7E)
Sweet 16 (8)
Calm before the Storm – Tucker HD (8A)
Redefinitions – Ruyonga (8B)
Kingin' – Patrobas (8C)
Gritty Cypher 2 – Payne Keelah (8D)
Who Killed Hip-Hop – Enygma (8E)
Mixtape of the year (9)
Kambajulire – Pryce Teeba (9A)
Love from Venus –Keko (9B)
Keep the Fame – Sulfuric (9C)
Dorm Room Experience – High Society Music (9D)
The Enygma Machine – Enygma (9E)
Central Rapper of the year (10)
Fefe Bussi (10A)
Victor Kamenyo (10B)
Gravity (10C)
St. Nelly-sade (10D)
Nemesis (10E)
Eastern Rapper of the year (11)
Byg Ben (11A)
Buka Chimey (11B)
1Rail (11C)
Ram Kigozi (11D)
Leumas (11E)
Northern Rapper of the year (12)
Mc Wang Jok (12A)
Toobi Smallz (12B)
G-Wills (12C)
Acholi Rapper Lobby (12D)
Lumix (R.I.P) (12E)
Western Rapper of the year (13)
Amaani Amanigger (13A)
Skylanta (13B)
T Bro (13C)
B-TRABOL (13D)
Qrea-us (13E)
Rap Fusion of the year (14)
Eh Mama – The Mith ft. Maro (14A)
Ghost – Maurice ft. Ruyonga (14B)
Njogereza – Navio (14C)
Ndakwikundira – Mckenzie ft. Kahiri, The Mith, Ruyonga, & Lilian Mbabazi (14D)
Mutima – Keko Town (14E)
Media Personality of the year (15)
So Severe (Touch FM) (15A)
Mister Deejay (Radio City) (15B)
Byg Kahuna (Hot 100) (15C)
Segawa Salim (UrbanHype.net) (15D)
Kyle (New Vision) (15E)
Deejay of the Year (16)
Tha Dropout (16A)
DJ Twonjex (16B)
DJ Slugface (16C)
Deejay Crim (16D)
DJ Shiru (16E)
Producer of the Year (17)
The Weezy (Batuwulira) (17A)
Samurae (Ndakwikundira) (17B)
Nase Avatar (No Apologies) (17C)
Lawraid Vibes (Stories of Elevation) (17D)
Baru (Side Zeno/Kambajulire) (17E)
Diaspora Act of the year (18)
Rashy K (Yenze) (18A)
Double S (Styles and Flows) (18B)
S.T.R.A.P. (Listen) (18C)
Kleo (Come too far) (18D)
Ston City (Afrikan Magic) (18E)
Female Artist of the Year (19)
MC Yallah (19A)
Keko (19B)
The Sphynx (19 C)
Lady Slyke (19 D)
Fasie (19 E)
Album of the year (20)
St. Nelly-Sade – Stories of Elevation (Omulondon'engero) (20A)
Ajo – No Apologies (20B)
Shemy B – Street Identity (20C)
Ruyonga – Glory Fire (20D)
Navio – The Chosen (20E)
We wish all the nominees the best of luck.